For quick loading of sheet metal storage drawers with wood-free sheet metal packages by crane or forklift truck
LoadingBeam at a glance
This peripheral component is used for drawer loading with depalletised sheet packs by means of a belt via forklift or crane.
Avoidance of diagonal pull in the longitudinal direction, especially in the thin sheet area (sagging of the sheet packs)
2 adjustable and one fixed safety double load hook in the middle
as well as fork spacing adjustable forklift entry shoes
Including TÜV acceptance test certificate
GS-approved load straps and beam support profiles against package deflection in depth with edge protection angles for damage-free transport
Compatible with these products
In the following you will find the possible complete packages in which this peripheral component is included or for which the LoadingBeam is a useful addition.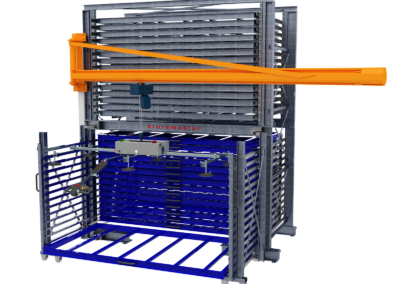 Basic block extension for TwenTower and ShuttleMaster to form a 1-man sheet handling compact station
Sheet metal storage shuttle tower for sheet metal packages on system pallets or disposable wooden pallets
Would you like to learn more?