20 years of TwenTower - The successful system for quick access to frequently required sheet metal types. Highest storage density worldwide
Advantages at a glanceExample: Large-format drawer unit with swing-in pull-out runners at approx. 2 m top extension:
25 drawers for 700 kg at 30 mm filling height
20 drawers for 1,750 kg at 50 mm filling height
16 drawers for 2,500 kg at 75 mm filling height
13 drawers for 3,000 kg at 90 mm filling height
TwenTower The original since 1998
In the metalworking industry, high storage density and easy access to sheets in different formats are required. The high loads make optimal sheet metal storage a special challenge. TwenTower is the successful storage system for quick access to frequently required sheet metal types. For more than 20 years, the clever drawer rack has been considered the world champion in terms of storage density in sheet metal storage. Behind the development of TwenTower are the clever minds of storemaster. We offer our customers well thought-out, individual solutions made from the most tried and tested elements of storage technology. TwenTower is one of our most prominent products for sheet metal storage. We bring our years of experience with storage technology in metal processing as well as our passion for optimal, customised solutions. Let storemaster give you expert advice!
Format variants of the TwenTower drawer rack
The TwenTower has sheet storage drawers for all formats of 2,000 x 1,000 mm to 6,000 x 2,000 mm. Each drawer has a load capacity of up to 3 tonnes for your different sized sheets. The drawers can be optionally electrified. This means that even load capacities up to 10 tons and even simpler operation can be realised.
Depending on the version, the TwenTower rack can be loaded and unloaded on one or both sides. The storage system has proven itself in practical use for decades and proves its unique storage density every day anew in the demanding and gentle storage of sheet metal.
The storemaster Shop
Smart sheet metal storage design and unique heavy-duty racking systems for sheet metal, coils and long goods. Discover our storage systems and put together your model online.
Tailor the TwenTower to your individual needs:
01.
7 drawers for sheet metal packages on wooden pallet or euroflat...
02.
...transform successively as required into...
03.
... up to 13 or 19 drawers for depalletised sheet packs ... ... and vice versa !
Versatile versions of the TwenTower
The TwenTower can be adapted to your storage and work requirements with its different versions. It is available both as a drawer rack and with interchangeable trolleys for removable sheet storage system pallets (flats). In addition, the TwenTower can be supplemented with the MasterTower drawer, the 1-man sheet handling compact station.
For you, the TwenTower is best suited for roller storage? We can equip your drawer shelving with the appropriate protective mountings for this purpose. Our shelving has also proven itself as a storage system for long goods, namely as TwenTowerLG. Like all Storemaster storage systems, the TwenTower is modular and compatible with other components. This allows you to add more basic blocks to your drawer rack and increase your capacity.
Storage systems for sheet metal at storemaster.de
Highly intelligent and practical solutions for sheet metal storage have been the focus of storemaster since 1967. With input from our customers, solid expertise and practical experience, we have developed sheet metal storage products that have proven their value many times over in the metalworking industry.
Advantages of the TwenTower
The TwenTower solves numerous sheet metal storage challenges at once.
The advantages of our shelving at a glance:
Permanently secured roller rail transition
Strong adjustable safety door stops
Door hinges for permanent maximum load
Magnetic stops
high carrying capacity
unsurpassed bearing density
access from both sides
optionally electrifiable
Suitable for large format sheets
Proven many times in practice
20 years warranty
smart, versatile compatible module for company-specific storage solutions
The automatic alternative
The new highlight in automatic sheet metal processing - finally for less money.
ingeniously simple | efficient | highly flexible | modular
Sheet metal storage automation with growth potential - successively expandable to up to 1,000 sheet metal types - with up to 10 machines - conventional sheet metal processing active in parallel.

Ideal also for the Pre-picking of sheets for continuous processing of machine follow-up orders without the continuous provision of whole sheet packs of changing sheet types.
The Starter Kit: production-integrated with 20 change places (10 temporary + 10 in buffer) from 150.000,00€ handed over ready for operation - any further storage space that can be integrated in the ShuttleTower® from 1.000,00€.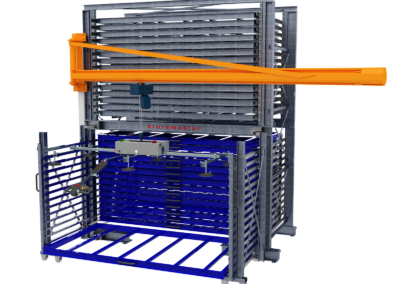 Basic block extension for TwenTower and ShuttleMaster to form a 1-man sheet handling compact station
Would you like to learn more?